Once your home is on the market and buyers have been to view, your Estate Agent will start to send through feedback from each applicant explaining exactly what they thought of your property. There are opportunities here to try and make sense of the comments that come back and possibly act upon them if no offers are forthcoming. Sometimes feedback can be very revealing and point to a specific problem that needs to be addressed or overcome.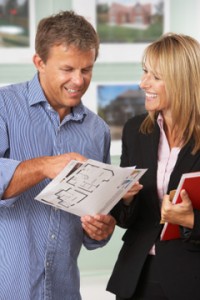 If a buyer has one particular objection about a property then this is often a positive sign. So if they are worried about the busy road but like the property generally then it's the job of your Estate Agent to sell them the positives and try to persuade them to make a compromise on this particular point, perhaps by mentioning that similar properties on a quieter road would cost that much more. Or maybe if the garden isn't quite as big as they hoped, the generous living space will make up for this and again, the buyer may be prepared to compromise.
Of course if the buyer reels off a whole list of reasons why they're not interested or says that they simply "didn't get the right feel" then it's unlikely that they'll be making an offer. Similarly if the house itself is too small for their needs or the location just isn't right, it's unlikely things will progress.
On average you'll probably need around 8-10 viewings to receive an offer. If you've had umpteen viewings with no offers and lots of negative feedback then this is the market's way of telling you that the price is probably too high. Similarly, no viewings at all after several weeks usually either means the price is too high or that the marketing details produced by your agent are not up to scratch. Take a look at the photos your agent has produced. Are they crisp, well composed and brightly lit? If the photos are poor then buyers will assume the house is poor so don't put up with poor quality marketing from your agent.
Finally be prepared to act upon feedback and liaise closely with your Estate Agent throughout the process. If buyers keep pointing to that damp patch on the ceiling or that peeling paintwork on the front door,  then you really need to get it sorted. Communication is key and if you listen to what the market is telling you then you'll be well on the way to finding that right buyer and achieving a sale.