Father Christmas Drops In With a Sackful of Great News!
Dear Father Christmas, On behalf of all of the staff at Elizabeth Davenport we'd really like to thank you for your visit and for the wonderful news! Your Elves really brightened up our day when they told us we'd made the Christmas Number One for instructions worth over £120,000 this December. What fantastic news! So many agents seem to have struggled this past month, which in fairness is the norm. In fact, being Number Two for instructions at any price gives us the same illustrious standing as Beiber and Bruno Mars so we can't complain at that either!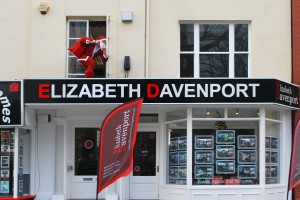 I'd also like to thank you for making sure that George received the fantastic camera and equipment he asked for. They'll certainly be put to good use (He asks for the same thing everything year and you've never failed to deliver!). Well, for this year I think it's time to say goodbye, give my best to Mrs Christmas and Rudolph (tell him I didn't mind clearing up his mess from the roof!) and we'll be sure to drop you a line again next year! Kind regards, Mark.