Why Too Many Estate Agents Can Spoil The Broth
Just last week we received instructions to sell a property in Coventry. The agreement was for 2 agents (Elizabeth Davenport plus one of our competitors) to market the property simultaneously.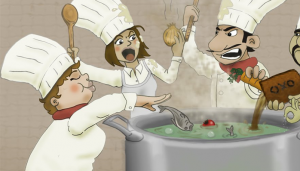 The idea of appointing 2 agents is to get a quicker sale for the client and because of the extra competition, presumably obtain a higher price for the property.
Sadly the arrangement soon became counter productive. The other agent involved received the first offer on the property. Their immediate response to this was to suggest to the owner to quickly accept the offer and remove the property from the market. Under any circumstances this is not the best advice to give especially when an offer has just been received and there are several other viewings booked in. Higher offers could well follow from other buyers so to accept the first offer instantly is questionable.
As it happened our agency subsequently negotiated a higher offer with a second buyer, well in excess of the one received via our competitor. By then though a deal had been struck and the original offer firmly accepted. The owner of the property, true to their word decided to stick with the original deal. They have now been left substantially out of pocket.
If one Estate Agent had been appointed then a different outcome would probably have prevailed and I suspect the owners would have now accepted a substantially higher offer on their property. Using multiple agents to sell your home is often NOT the best way forward.
Elizabeth Davenport specialise in sole agency and will get you the best results bar none. Call our office to day and arrange a free valuation for your property.