Should We Have A 'For Sale' Board?
Some homeowners we speak to are hesitant about having a 'For Sale' board when they place their property on sale. But what are the main reasons given for not having a board?
"We don't want to upset the neighbours."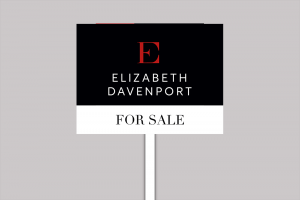 "We don't want people knocking on the door."
"We think it might be a security risk."
"We don't want anyone to know that we are on sale!"
This last one beggars belief! They are seriously saying that they want the house on sale but don't want anyone to know that it is for sale!!
However, as practicing Kenilworth Estate Agents the most common objection we hear from sellers is this:
"All the serious buyers will be looking online anyway so why would we need a for sale board?"
This is true, most of the serious buyers will search actively online. But many people work long hours or have relatives to care for, etc and simply don't have much time to keep trawling through websites looking for property.
And whilst the property portals are terrific platforms to find property on, they certainly aren't perfect. One of the big fall downs of property portals is that the filter systems buyers can apply are simply too good. For example, applying a 'maximum price' filter, along with a 'number of bedrooms' filter, added to a 'property type' filter coupled with a 'Must Have' filter can instantly have the undesired affect of filtering out your ideal property.
Ans so your dream home on sale at the end of the road goes unnoticed. You drive past it every day but are oblivious to the fact that it's on sale because the owners chose not to have a for sale board. It's advertised at £5,000 over your 'maximum price' filter and doesn't show up in your search results on Zoopla and Rightmove.
By contrast a for sale board has no filters. Everyone on foot, in a car, on a bus, on a bike or walking the dog will see it as they go past. It will be seen by active buyers and it will also be seen by passive buyers. And remember, every potential buyer counts.
Imagine if the sellers of your dream home had decided to have a for sale board it could have been so different:  After searching online and finding nothing that fits the bill, you head to work one morning and notice the for sale board. "That's funny, i didn't notice that house on Rightmove?" So you reach the office and sneakily take a peak online. Having reset your search filters, there it is… It looks sensational and ticks all of your boxes. Surely you can stretch that extra £5,000?? Let's call the agent!!
Even in a no through road, a board can alert potential buyers to a property. For example, friends or relatives visiting neighbours or dog walkers passing by. Some buyers even go on Sunday afternoon drive arounds searching for 'For Sale' boards in their preferred locations.
Ultimately, buyers expect a house that is for sale to have a For Sale board outside it. The board sends a very positive message to potential buyers, confirming that the sellers are committed.
A board also helps buyers to locate and identify a property when they go to view, making their experience an immediately positive one.
So if you're going on sale this year then the message is simple. Get an attractive 'For Sale' board mounted outside the front of the property and dramatically increase your exposure to potential buyers. You'll be moving in no time.        by George Hartshorn