Estate Agents Kenilworth ~ Letting Agents Kenilworth
Award winning Kenilworth Estate Agents Elizabeth Davenport have a prominently located office on Warwick Road in central Kenilworth. Book your free valuation today and we'll explain several key reasons why you will benefit from marketing your property through Elizabeth Davenport.
Historic Kenilworth
Let's take a look at Kenilworth
Kenilworth Office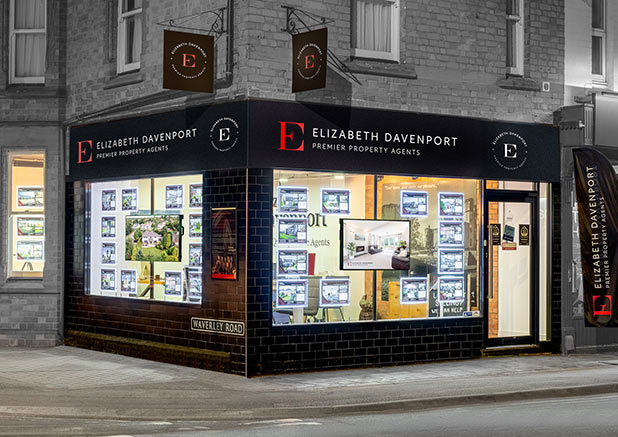 Telephone 01926 298 298
kenilworth@elizabethdavenport.co.uk
99 Warwick Road, Kenilworth. CV8 1HP
Current Properties
Location Map
Telephone 01926 298 298
kenilworth@elizabethdavenport.co.uk
99 Warwick Road, Kenilworth CV8 1HP
Current Properties
Featured Homes For Sale
A selection of our most recent properties for sale.
Show me more
Meet The Kenilworth Estate Agents
Featured Properties For Rent
A selection of our most recent properties available to let.
Show me more
Kenilworth Branch ~ Sales & Lettings
Elizabeth Davenport Estate Agents Kenilworth are located on the corner of Warwick Road and Waverley Road in the town centre.
The historic town of Kenilworth has a delightful array of properties which synchronise perfectly with the Elizabeth Davenport style of marketing. Beyond the town boundaries, the beautiful local villages such as Ashow, Leek Wootton, Hill Wootton and Stoneleigh attract discerning buyers and sellers alike.
If you have a property to sell, either in Kenilworth itself or the surrounding villages and area then call our experienced staff on 01926 298 298 and we will be delighted to arrange a no obligation appointment at a convenient time for you. If you require a Saturday appointment then ask our staff, we always do our best to accommodate Saturday valuation appointments.
Telephone hours are 9am - 5.30pm weekdays and Saturdays 9am - 3pm. Or you can email us at kenilworth@elizabethdavenport.co.uk
We very much look forward to working with you.
If you have a property to sell or rent further afield our teams of Coventry Estate Agents or Stratford upon Avon Estate Agents cover those areas and surrounding villages.
Kenilworth Property News
Kenilworth's House Prices: More Than Just Bricks and Mortar
September 28, 2023
The Enigma of Kenilworth's House Prices: More Than Just Bricks and Mortar
Kenilworth stands out for its consistent high house prices, especially when compared to its neighbouring towns: Warwick, Leamington, Coventry, and even the globally renowned Stratford upon Avon. While all these towns have their own unique attractions and historical significance, Kenilworth's real estate market has demonstrated a peculiar resilience. So, what underpins this steadfast property demand in Kenilworth?
1. The Charm of Kenilworth:

First and foremost, Kenilworth, with its rich history, remains an attraction for many. The magnificent ruins of Kenilworth Castle and the scenic Abbey Fields lend the town a timeless appeal. The town's peaceful setting combined with easy access to urban facilities has made it a prime location for those looking for the best of both worlds.

2. Quality of Amenities:

It's essential to note that while neighbouring towns might also boast their historical sites, Kenilworth's offerings extend beyond its history. The town has an array of high-quality schools, a factor crucial for families. Besides, the parks, leisure facilities, and a range of eateries and pubs make it an attractive place to settle for various age groups.
3. Demographic Consideration:

There's some truth to the perception that Kenilworth is home to a relatively older, and perhaps more affluent, demographic. Older generations, having benefited from the property booms of the past, may have a more significant equity in their homes. This demographic trend can naturally drive up average house prices as properties are often more developed, extended, or renovated.
4. Limited Housing Stock:

A consistent factor that contributes to high house prices is the basic economic principle of supply and demand. Kenilworth has seen limited new housing developments compared to some of its neighbours. The restricted supply in the face of consistent demand can naturally lead to upward price pressure.
5. Connectivity and Commutability:

Kenilworth's recent railway station reintroduction has bridged the gap between the town and major cities like Birmingham and London, making it an attractive hub for professionals. Given its strategic location and good transport links, it becomes an ideal choice for those working in surrounding urban areas but wishing to live in a more serene environment.
6. Perception and Prestige:

Lastly, there's a certain prestige associated with Kenilworth addresses. A combination of its history, the demographic, and the genuine charm of the town has led to a perception that Kenilworth is a desirable place to live. Such perceptions, once established, can be self-perpetuating, leading to sustained demand and high house prices.
In Conclusion:

While it's tempting to pin Kenilworth's high house prices on a single factor, it's a complex interplay of history, amenities, demographics, supply constraints, connectivity, and perception. As with many property markets, emotion and sentiment play a role alongside cold hard economics. Kenilworth's allure is a testament to its multifaceted appeal, weaving together threads of history, modernity, and an undeniable charm.