The Truth About House Prices
Once again the national media have been providing commentary about the "housing bubble" and talk of measures to cool the property market down seem to be getting louder. The press however are pre-occupied with what's happening in London and the home counties and don't seem interested in reporting what's happening on the ground further afield. It's a shame that local media outlets don't run stories about what's happening in your own backyard or more specifically the Coventry area.
Doing some of my own research, I found it extremely easy to get the exact figures for the Coventry area, simply doing an internet search for "Land Registry Price Index" and the real data is available publicly.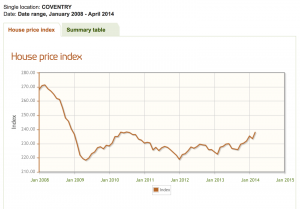 The contrast between the reality and what the press are reporting is amazing. Importantly the only data that matters is what houses actually sold for and this data is available through Land Registry. Price indices based upon asking prices are meaningless and misleading.
Prices in Coventry rose 4.6% annually to the end of March. This contrasts with those in prime central London which soared 17.5% during the same period. However, the most amazing statistics are where prices currently stand compared to the top of the market in early 2008. Coventry prices are still 12% lower than the at the peak (see graph). Compare this to the city of Westminster where they have risen 72% during the same period. The national figures put out on TV are heavily skewed by what's happening in the south-east and as a result are meaningless for the rest of the country.
The market in Coventry is very healthy at present but certainly not out of control or becoming a bubble. We don't need politicians, bankers or economists applying the brakes to our market for all of the wrong reasons.