The Quickest Way To Add Value To Your Property Revealed
It's a question that gets asked many times. "How can I add the most value to my property with the least amount of effort?"
Add an extension? Refit the Kitchen? Convert the attic, or perhaps landscape the garden?
All of the above are of course are very good ways to add value to your property. However they all take a lot of time and planning and require an up-front significant expenditure or outlay. Today I am going to reveal a way to instantly add value to your home without spending a penny or lifting a finger.
"Impossible!" I hear you retort. But it's not impossible. In fact it's very easy and very simple.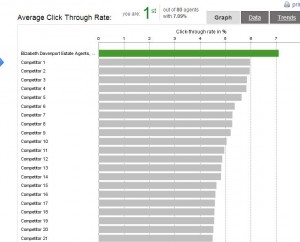 It's a statisitical fact that when you put your property on sale, the more hits your property gets online, the more people will call the agent up and request a viewing. And it's basic economics that the more buyers that come and view your property the higher the demand and the higher the selling price. So when you come to sell you need an agent that will get you the most online hits and the most viewing requests.
According to rightmove statistics Elizabeth Davenport are regularly top of the tree for hits on our properties. Our properties consistently get the highest "click-through rate". This translates into a higher number of viewings for each property and therefore a higher selling price. In fact many of our properties sell for the full asking price because they are in such high demand.
So to add instant value to your property, give us a call today and request your free valuation.