LIFT-OFF 2014!!
The New Year has already been a record breaking one and 2014 is set to be a very healthy year for the property market in Coventry and the surrounding areas.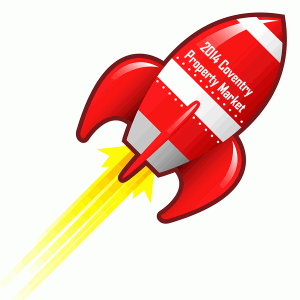 We are seeing lots of new properties come to market and have buyers queueing up for them in their droves. One new property that came to market in the last week at our branch had an offer of the full asking price within 24 hours. This was before the buyers had even visited the property!
The much increased availability of finance is the driving factor with much smaller deposits now required from many of the big lenders. This means that first time buyers have returned to the market place in large numbers and it's these guys that prop up the housing market.
So if you're considering making the move this year, call our office on 02476 010105 and arrange for a free, no obligation valuation and appraisal of your home. According to Rightmove statistics we are the fastest selling agent in the Coventry area so pick up the phone today and get moving.
…..3………..2………..1………..LIFT-OFF!!