Selling Property After Bereavement
For many people, one of the hardest things they ever have to do is sell the family home after parents/relatives have passed away or gone into care. It can be a very sensitive time and the stress of having to put a property on the market coupled with the grief of losing a loved one can sometimes be too much to bear. In addition, there may be several family members involved who do not all agree on the best way forward and this can causes added tensions.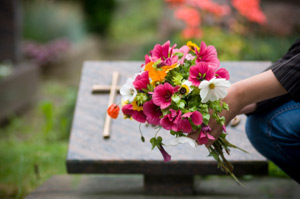 In many instances, if the relative was elderly, it may be that the property is in need of updating and modernisation. There may well be years and years of clutter that has built up throughout the property leaving it in rather a 'busy' state.
Here are a set of easy-to-follow guidelines that should help to get the property shifted relatively quickly on the open market:
Firstly, give yourself enough time before you decide to sell. Returning to the property and letting in Estate Agents and strange people will be upsetting, so GIVE YOURSELF ENOUGH TIME after a bereavement.
Invite over at least 3 Estate Agents and listen to their valuation figures carefully. If the property is rather dated (as is often the case) be prepared for some modest figures. Go with the agent that provides the most compelling evidence to back up their suggested sale price.
Clear the property of all the clutter and personal belongings. However, you will want to leave some basic furniture in the property (even if it's old and a bit cranky). This will help to give an identity to each room, it will also make the place feel warmer and more inviting. Completely empty houses always look sad and lonely, in addition photographs of empty rooms do not make pretty pictures.
Let the Estate Agent take all of the viewings. Potential buyers will be talking about "refitting the kitchen" and "tearing out that old bath suite", not things you will want to hear if you grew up in the property.
Finally, make sure that all family members involved in the sale are easily contactable: time can be of the essence when offers start coming in from interested buyers. You should all agree well in advance what you are prepared to accept in the way of offers. If offers are not forthcoming within a few weeks then be prepared to drop the price a little.
If you stick to these guidelines then you should find a buyer relatively quickly. Bereavement properties often attract a lot of interest due to their modest prices and lack of onward chain.