Don't Put The Cart Before The Horse!
A common dilemma when moving home is juggling things into the correct order.
Should you find somewhere to move to first or find a buyer for your own place beforehand?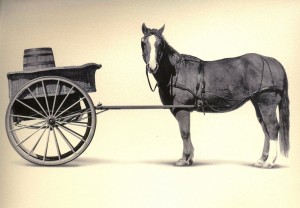 Many homeowners call our office and say that they are scared to put their own property on sale until they have somewhere to move to. This is an understandable concern but trying to find somewhere to buy before you have sold is putting the cart before the horse. It simply won't work and will lead to disappointment and frustration.
Firstly many estate agents simply won't book you in to view any of their properties unless you have already agreed a sale. And even if they do, if you find something that you like then you will not be in a proceedable position and will miss out. After all, how can you possibly make an offer on your next property when you don't know what your current one is going to sell for?
So the first thing to do is to get your own place on sale with a good estate agent that gets results fast. Look for an agent that has a high proportion of "Sold" stock (around 60% is excellent). Elizabeth Davenport currently have 66% of our stock Sold STC compared to other local agents that have as little as 10%.
Once we find you a buyer and accept an offer, you can begin your search in earnest. And don't forget, ultimately if you can't find anywhere to go to then you are not legally obliged to move until contracts are exchanged.