An Empty Presentation
Selling an empty property presents it's own particular unique challenges.
A common scenario is when selling property from a deceased estate. This can be a very difficult time for relatives, faced with the prospect of sifting through personal belongings, clearing old furniture, and trying to prepare their loved ones property to go on to the market.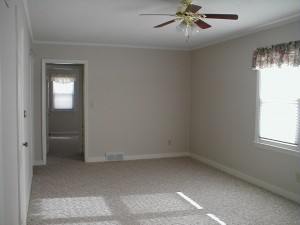 Often the property may be in a poor state of repair and their may be lots of clutter and stored items in attics and garages. Many clients tell me that they simply don't know where to begin and they have little idea what to leave and what to throw away prior to putting the property on sale.
My advice is to clear as much of the clutter and personal items as possible but to leave basic items of furniture in each room (presuming they are in reasonable condition). Also leaving a few pictures on the wall (as long as they are not personal ones) will help to make the place feel a bit warmer and a bit more homely.
Emptying the home completely can leave it looking cold and barren. This can make it difficult to sell and also makes it exceptionally difficult to photograph. Potential buyers will be more attracted towards a picture of a Lounge with a sofa and a coffee table than they would towards a picture of the same room empty with no sense of purpose and just a couple of blank walls and a door to focus on. Maintaining the garden of an empty property is also an important consideration so it is definitely worth employing a gardener during the sale process.
For further advice on selling an empty home or any other kind of property call us today on 02476 010105.