Euro 2016 Poster Giveaway!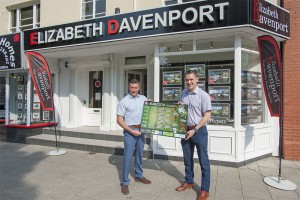 Well it's here and what a curious start! With Iceland's draw with Portugal summing up how truly open the field is at this early stage, it's all to play for. Disgraceful and archaic hooliganism aside, it's always exciting (petrifying/embarrassing/humiliating!) to support your country, whichever it may be.
The emphasis is on attack not defence for England with the five recognised strikers of Rooney, Kane, Vardy, Sturridge and Rashford making the trip.
The team at Elizabeth Davenport have been on the attack too having raced into the lead selling more houses then any other estate agent since the beginning of the year, between £170,000 and £2m!*
We have decided it would be good idea to hand out some free posters so people can chart the results as the tournament progresses!
With the three home nations of England, Wales and Northern Ireland along with the the Republic of Ireland qualifying interest is going to be a high as ever!
The posters are available in two sizes A1 and A3 and will be given away from our office in Warwick Row or can be posted out on request. Plot your way through the tournament and record all of the scores as well as seeing all of the kick off times and the channel the game is being broadcast on. The wall charts are ideal for kids bedrooms or for those really keen supports – the living room wall!
If you would like take advantage of this free promotion please get in touch and one of our friendly team we will be delighted to get a poster to you. Lets hope one of the home nations can make history and bring the cup home!
*source rightmove sale stats.