Team GB, second in the world. Who needs Europe?
After an amazing Olympics in which Great Britain beat everybody out of sight (bar USA), team GB arrive home to a hero's welcome. Richly deserved, it was an amazing achievement.
And the performance went a long way to showing how our little island can perform on the world stage, both in sporting terms and also in economic terms. After some of the post Brexit negativity, this is a real boost to the nation and should inspire everybody to rally together now and get on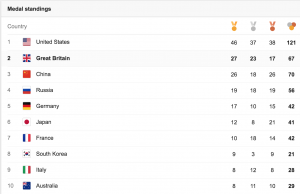 with the business of finding our way in the world, without the ties and regulations of the European Union.
Team GB won more Gold medals than Germany and France put together. Which goes to show when we organise things ourselves, we get the job done.
My money is on more of the same in Japan, 2020 and by then Brexit and Europe will be long forgotten as our economy and property market grow in strength. We'll show everyone that our little island can make it's own way and become a truly global sporting and economic force.
Congratulations everyone!