London Marathon 2018!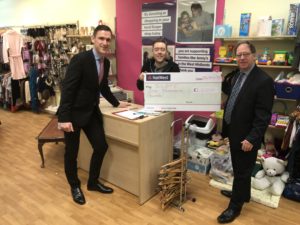 Elizabeth Davenport Director Nick Luntley is running the London Marathon later this year in order to raise money for the very well known national charity Scope. Nick who is a keen runner has never ran a marathon before but is looking forward to the challenge of distance runnings greatest test!
Nick who runs for Massey Furgusson Running Club, is looking to raise £2,000 and his efforts were given a massive boost with the very generous donation made by Band Hatton Button Solicitors who have put forward £1,000.
Nick Button who is a partner at Band Hatton Button said "we are absolutely delighted to support Nick in his marathon effort for such a worthy charity in Scope. All I can say to Nick in regard to the marathon itself is, rather you than me!" Nick who works out of both the Kenilworth and Coventry branches at Elizabeth Davenport said "I'm absolutely delighted with the support shown from Band Hatton Button when I approached them for some support I was absolutely delighted they said yes without a moments hesitation. Scope is a fantastic charity that I'm proud to support. I know once this is all over I will be able to look back with great pride about the amount of money raised and the lives we will have been able to improve."
The annual capital marathon event is ran from Greenwich in south London and finishes in on The Mall right outside Buckingham Palace. This year there is a fantastic field of elite athletes including the famous Kenyan athlete Eliud Kipchoge and Great Britain's Olympic hero Sir Mo Farah.
The London Marathon is on Sunday 22nd April and there is still time to support Nick by making a donation to his just giving page https://www.justgiving.com/fundraising/nick-luntley