Let Your Purchase Be Crystal Clear!
Sometimes when you meet the right people opportunities arise that enable your business to move in a direction quicker than you anticipated! George and I met Ian Shaw, an experienced financial consultant and we got on even before he explained the full capacity and opportunities his business offered. Ian has the ability to independently search over 5000 mortgage products for potential clients, many of which, due to his companies partnership with Legal and General are unique to their company.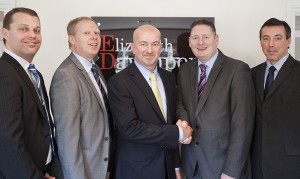 Crystal Clear Financial Planning can meet our customers and those we introduce, at our clients convenience, whatever the time or location. The research and proposal of a suitable mortgage for our clients will cost nothing. Ian, together with Graeme Lewis and the director Darren Burdis all follow our companies "Client and Customer First" ethos. Buying a house is not about us and it's not about them. Buying a house is about the customer and selling a house is about our client. We don't want to push a mortgage in front of our customers.
We are Estate Agents (I tried to think of another title but I suppose I can't completely reinvent the wheel!) and we have no interest in which mortgage product you choose. We simply want what is best for you. The way to do that is to offer you the ability to discuss financial matters with a truly independent expert who can listen, advise and satisfy your needs.